PERSONAL MIXING AT ITS BEST
Company Info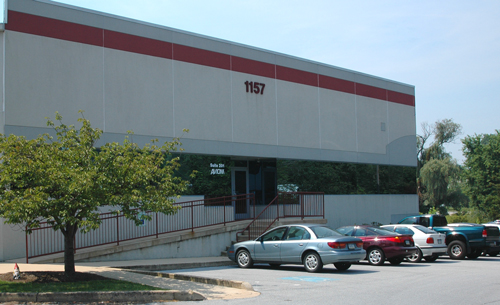 Best known for changing the face of monitor mixing with its Pro16® personal mixing system, Aviom offers a full line of audio networking products, powered by A-Net®, Aviom's innovative high speed digital audio transport technology. With its second generation of A-Net products, the Pro64®Series, Aviom has simplified system design while enhancing control, flexibility, and performance.
The company was founded in 2002 by a team of engineering, design, and product development professionals with many years of experience in the Musical Instrument and Pro Audio fields. Aviom's mission is to create innovative, technology-based products that address the real-world needs of audio professionals and musicians working in a variety of environments.
Both Aviom's Pro16 and Pro64 products are used in a range of portable and fixed installation applications, including live sound reinforcement, broadcast, recording studios, houses of worship, theaters, schools, and post-production facilities worldwide.
Aviom's corporate headquarters are located in West Chester, PA, 25 miles west of Philadelphia.
All Aviom products are designed and manufactured in the USA.
Aviom, Inc.
1157 Phoenixville Pike - Suite 201
West Chester, PA 19380-4254 USA
(voice) +1 610-738-9005
(fax) +1 610-738-9950


Network Mix Back
for wireless in-ear monitors
For the ultimate freedom on stage, many musicians prefer wireless in-ear monitors. Network Mix Back™ extends that freedom to personal mixing, with a single-cable solution for the A360 Personal Mixer, with audio and DC power in and mix audio back out, all on a single Cat-5e cable. Network Mix Back is a feature that is available whenever an A360 is connected to a D800 A-Net Distributor.
Freedom from cable clutter
With Network Mix Back, you can streamline connections to performers' wireless in-ear monitors, reduce the amount of analog cable in your rig, improve freedom of movement, and clean up the stage—without sacrificing audio quality or system performance.
One cable for everything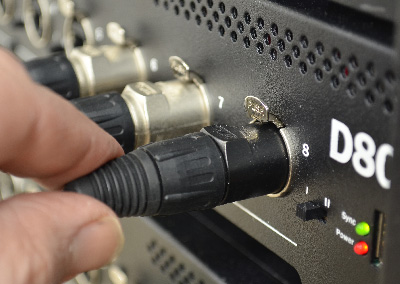 Network Mix Back uses the Cat-5e cable you already have for your personal mixer. Because the A360 and D800 or D800-Dante A-Net Distributorscommunicate bidirectionally, the D800 can provide multi-channel audio and DC power to the A360s and receive the stereo mix back from each connected A360. One cable does it all. Each D800 can support eight A360s; eight stereo mixes in all.
Simple connections to transmitters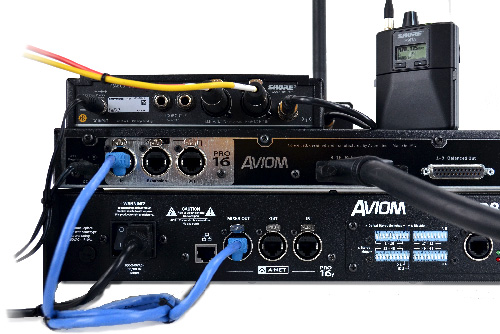 Whether your wireless in-ear transmitter has analog inputs or a Dante network interface, Network Mix Back makes connections easy. The D800 or D800-Dante assembles the stereo mixes into a single 16-channel digital audio stream, which can be routed into the Dante network or sent via A-Net to an AN-16/o v.4 Output Module* for conversion back to discrete analog audio signals. One D800 and one AN-16.o v.4 provides wireless connectivity for eight users.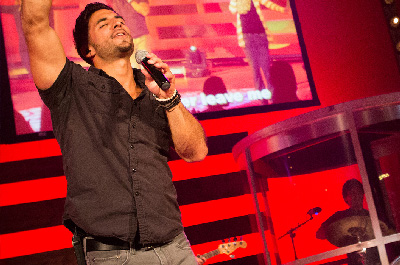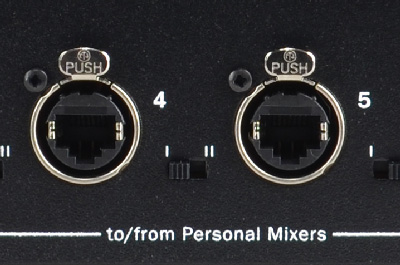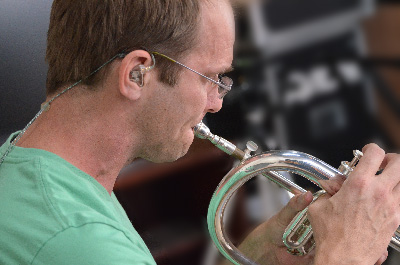 Setting up Network Mix Back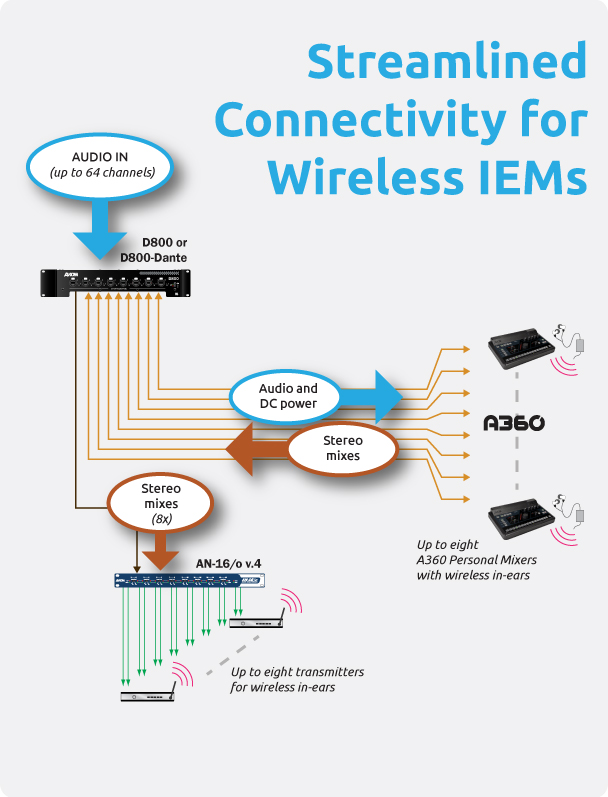 Using Network Mix Back requires a D800 or D800-Dante A-NetDistributor and A360 Personal Mixers for the performers who want to connect to wireless in-ear transmitters via the network cables.
Connecting to analog in-ear transmitters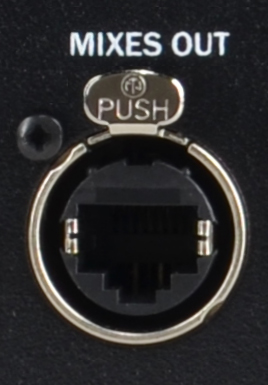 Both the D800 and the D800-Dante include a rear panel MIXES OUT port. All eight stereo mixes from connected A360s are output here, as a 16-channel A-Net stream.
To get those mixes into the individual transmitter units, simply connect a Cat-5e cable from the Mixes Out port to the A-Net In port on the AN-16/o v.4 Output Module*, which converts the channels back to analog. Connect analog cables from the AN-16/o v.4 to the left/right inputs on up to eight transmitters, and you're all set. No routing, configuring, or assigning is required.
Network Mix Back to Dante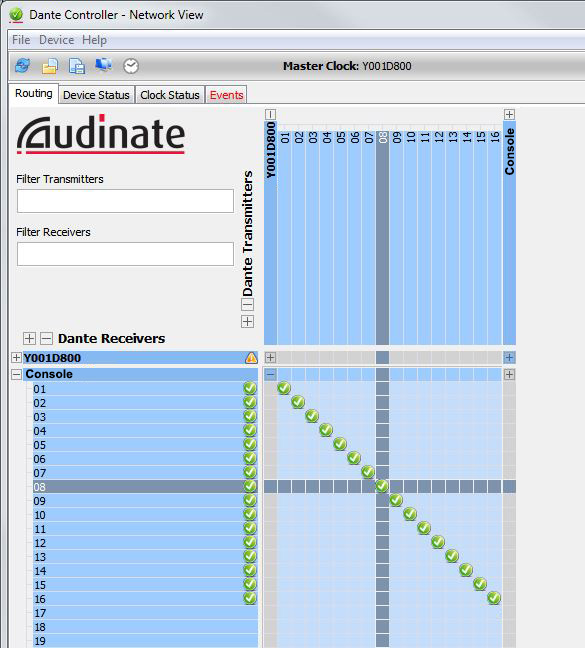 On the D800-Dante, the stereo mix outputs from connected A360s are also available to the Dante network. Using Dante Controller, Network Mix Back channels can be routed into the Dante network, for distribution to Dante-enabled transmitter units, consoles, or other devices. This direct digital patching does not require the AN-16/o v.4 Output Module. You can use existing outputs on Dante stage boxes, mixing consoles, or any Dante device that can output the stereo mix from an A360.
Learn More
The Aviom Blog contains additional information about Aviom products and system setup. Get more detail on Network Mix Back setup, Expanding a Personal Mixing System, the D800 front-panel switches and more.
---
* Compatibility Note: AN-16/o v.4 Output Modules with serial numbers 51162 and lower are compatible with only Pro16 A-Net and not Pro16e A-Net. The Pro16e version of A-Net is used by the AN-16/i v.2 as well as the D800 and D400 line of A-Net Distributors.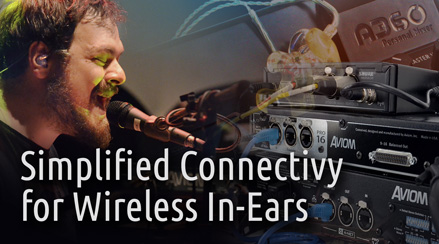 Choosing the right
Aviom Personal Mixer
All Aviom Personal Mixers deliver outstanding performance on stage and in the studio, allowing musicians to hear better and reducing the workload for the engineering staff. And all Aviom Personal Mixers are fully compatible with one another—including legacy A-16II mixers—so you can find the right balance of power, simplicity, and budget for every musician in your ensemble.